7th Annual Health Careers Start Here Youth Conference
Camarena Health hosted its 7th annual Health Careers Start Here Youth Conference on Friday, May 20. The conference was held at Madera Technical Exploration Center to support Madera Unified School District 8th grade students participating in the health pathway lab. The conference allowed students to interact with healthcare professionals and presented them with hands-on skills healthcare professionals experience each day. The conference features a keynote speaker and a series of workshops to show students the diverse options for a career in healthcare ranging from medical to dental and behavioral health to emergency services.
Dr. Humberto Avila, a Madera native, and provider at Camarena Health's school-based health centers at Madera South and Matilda Torres high schools was the keynote speaker.  Students had the opportunity to engage with Dr. Avila to hear about his profession, the challenges he faced, and his journey from growing up in Madera to becoming a doctor and returning to his hometown. Having grown up and now living and working in Madera, Dr. Avila is an influential provider at Camarena Health that is on the pulse of the needs of the community. He provides unrivaled care for his patients and is an inspiration for all of Camarena Health.
Jessie Sumner, PA-C, and Nathaniel Lara, PA-C lead a suturing workshop where students were able to practice suturing on artificial skin. In the past, students would learn suturing on bananas, but for the first time, they were able to learn using an artificial skin material designed exactly for this purpose. Students that participated in this workshop were exposed to something that might encounter any given day as a healthcare provider.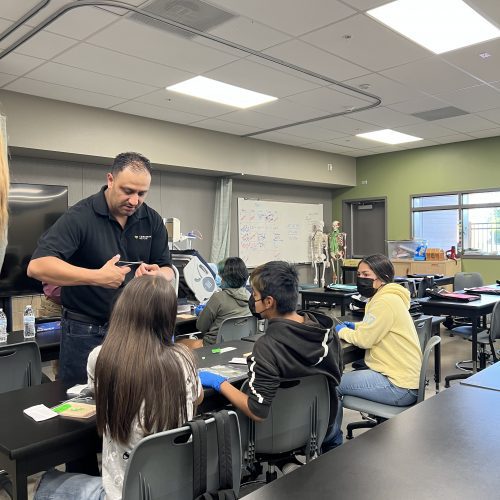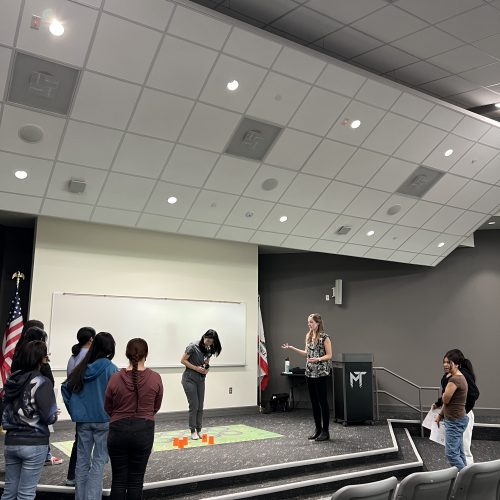 A new workshop this year was led by part of Camarena Health's behavioral health team. Rosalba Serrano Rivera, LCSW, and Sandra Ochoa, LCSW taught students about boundaries in interpersonal relationships and the importance of saying "no" when they are in uncomfortable situations. While these students are about to enter high school and potentially start dating, the workshop went beyond that and specifically identified situations students might be in just among their friends or even at home. A major takeaway from this workshop was taking control of one's personal safety and well-being.
Another first-of-its-kind workshop at the conference was in the area of dental led by Dr. Abhi K. Thakkar, DDS. He helped students get hands-on with cleaning teeth-and not just their own. In addition to refreshers on their personal oral hygiene, students were given the opportunity to clean a wax-based imitation plaque off of artificial teeth using real dental tools.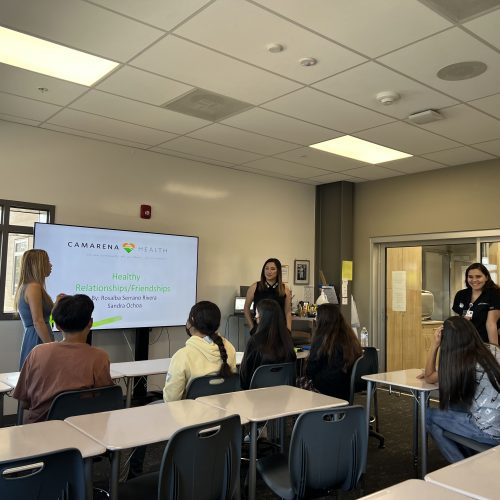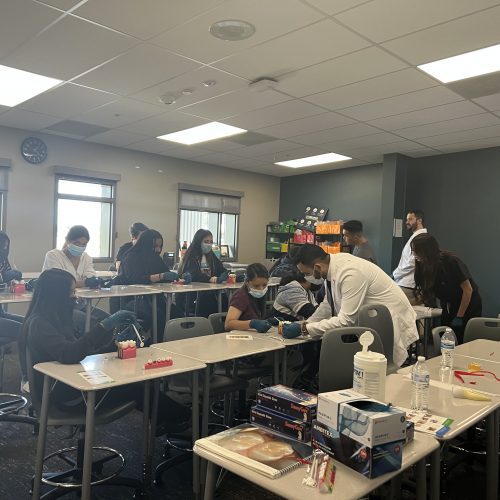 Sometimes it may be difficult to understand what we don't know. Most people probably have not had a concussion, so Michelle Dommermuth, NP used simulation activities to show students the side effects of concussions and educated them on treatment for symptoms. Students would wear special goggles that would distort their vision the same way a concussion might. Then they would try to do rudimentary tasks such as picking up a ball or stacking cups in a line.
"It was such a privilege to engage with the 8th graders at Madera Technical Exploration Center," said Camarena Health provider Michelle Dommermuth, NP. "The students were enthusiastic, and we all laughed a lot. The staff was wonderful and so passionate about providing an active learning environment for growing minds. I had such a great time and I hope to be involved again in the future."
Students were also shown that a health career does not have to be at a health center, hospital, or dental office, it could be on the go. CTE teacher and EMT Sean Kelly took students through a day in the life of an EMT in a workshop on a simulated ambulance that includes all the equipment they may encounter in the back of an actual ambulance.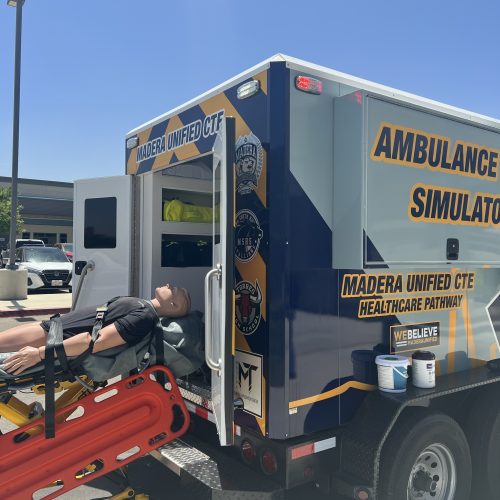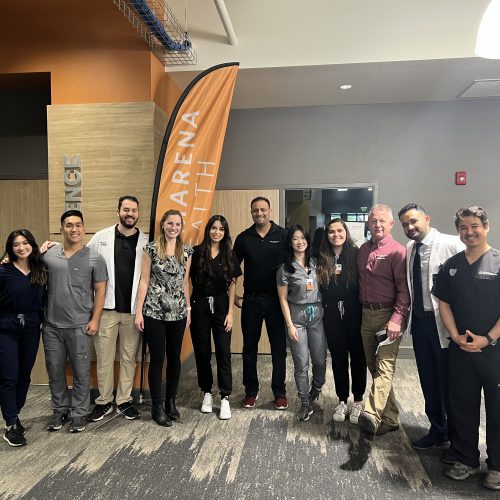 "The Youth Conference at MadTec was amazing. Camarena Health put together an event that the kids absolutely loved," said Madera Technical Exploration Center teacher Jessica Schindler. "They care about the health field and the future of it, which is evident in how they support and build up the youth. My students had a great time and loved experiencing different areas of the medical field with real hands-on medical professionals. We at MadTec look forward to collaborating with Camarena Health in the future and helping build student interest and gain an interest and a love for the health field."
Camarena Health facilitates this annual conference with its staff in an effort to provide local students an early, hands-on experience of what a career in healthcare could be for them. The goal is to give students a perspective into the diversity of work available in the healthcare field and that becoming a doctor or a nurse is not the only way to pursue a career in healthcare. These activities showed them that medical, behavioral health, dental, emergency services and more require different levels of school and a different day to day environment that may be more appealing than others after high school. By providing this education early on, students may also be better equipped to make more well-informed decisions about their life after high school.