Promotores Frente a la Obesidad Infantil We partnered with Valley Children's Hospital and MGY Building Health Capacity to develop a program to help prevent and reverse childhood obesity in Madera. According to the Madera Community, HealthNeeds Assessment childhood obesity is in the top three identified medical threats to the community. Over the last decade, the United States has recorded significant
upward trends in the prevalence of obese children correlating linearly to the age group of the child. Promotoras frente a la Obesidad (PFLO) is a community-based program developed by frontline volunteer community health workers (CHWs), known as Promotores de Salud, to help educate rural, primarily Spanish speaking families of various cultures on childhood nutrition.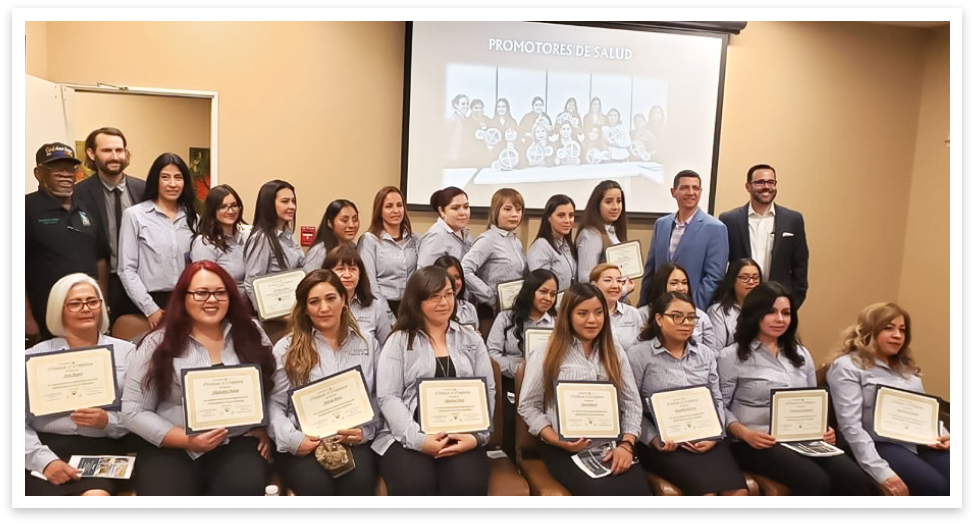 Dr. Daniel Ebbs, a pioneer of the program, worked with Camarena Health's Promotores de Salud to design a program to educate children and families on the topics of breast and bottle feeding, the importance of routines, building family teams, the introduction of solid foods, active play, and screen time. The program is designed as an early educational intervention to provide tools and nutrition information to give children the best
chance of preventing obesity. The program consists of 13 promotoras who recently completed a one-year education program on childhood nutrition paralleling the American Academic of Pediatrics guidelines and recommendations. PFLO includes one-on-one interventions that will enroll families who are pregnant or have children between the ages of 0-3 years in a child health seminar consisting of six classes.
Volunteers hosted weekly sessions included the following topics: